On this International Women's Day, I draw my energy from the subversive cross stitch movement. It is an energy fueled by my eternal little pot and my love for all that is sass.
Could there be a better way to channel my inner rage than a pretty pattern of embroidered curses?
I am clearly not alone. These cross stitch patterns have activated a strong female fan base – women who sit in the C suite during the day and pull out the needle and thread at night. I would like to know: what is the secret power of the subversive cross stitch? What can this artsy-folksy craft teach us about the state of the women's movement today?
I'm a longtime feminist, trained from the womb to run fast, work hard, and chase my wildest dreams. But it turns out that this is not the only training I have received. When I recently told my own daughter that a certain boy was teasing her because he liked her, I realized the extent of the patriarchy that lies within.
Do I really believe that boys can do whatever they want to girls? Surely not. But I learned that somewhere. I have learned it so deeply that years of activism have not unlearned it.
I shouldn't be surprised. Like cross stitch, women's oppression follows a pattern – one that begins at home. Its multiple threads are sewn into our psyche from an early age. We hear that "boys will be boys" and "men have needs". We are told that we could be pretty if only we tried harder, or that we are "too sensitive" when men hurt us or break our body or mind.
With the subversive cross stitch, women literally create new patterns.
This is crap. The worst kind.
With the subversive cross stitch, women literally create new patterns. This is the job that needs to be done if we ever hope to see equality for women and girls in our lifetime. And while the subversive cross stitch may be a more recent phenomenon, the DIY (do-it-yourself) element of women's movements is not.
Women have been organizing for a long time and changing hearts and minds in unconventional ways. Indeed, these strategies have been the Trojan horse that leads to huge gains. I think of Buffy Sainte-Marie breastfeeding the Sesame Street, and Leymah Gbowee leading women in sex strikes that brought peace to Liberia.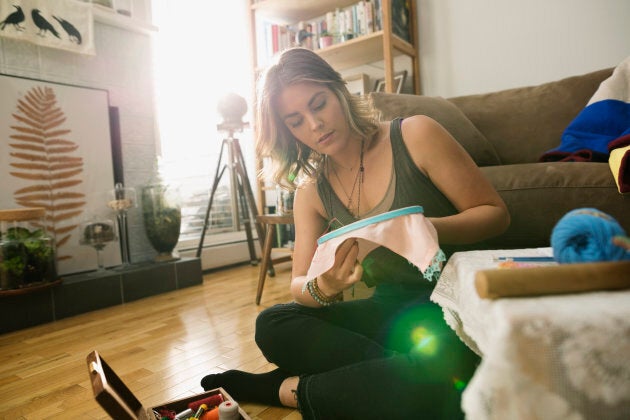 The subversive cross stitch is just that – a Trojan horse. Women use the disguise of "feminine" crafts to break long-standing gender norms. And it is awesome.
On this International Women's Day – the biggest day of the year at the MATCH International Women's Fund – we are taking subversive cross stitching to the next level. Our #RestingStitchFace campaign takes those pernicious phrases ("He only hurts you because he loves you" or "She looks like a bitch at rest") and exposes them for what they are: attitudes and assumptions that are taught, learned, passed on from one generation to the next. They are harmful and they are dangerous.
More blogs from HuffPost Canada:
As women's movements come together, rise up and name each other like never before, we must not forget to consider what we have inherited and what we choose to keep.
Indeed, women break the patriarchy, one cross stitch at a time. And this pottymouth couldn't be more $ @! # Happy.